Dolly Parton's Little Sister Stella Exposes Embarrassing Secret From Their Childhood
StellaPartonOfficial / YouTube
Dolly's Famous Singing Sister
Dolly Parton isn't the only member of her family with a musical bone in her body. Out of her 11 brothers and sisters, many of them have also gone on to enjoy careers in the music industry, including her little sister Stella.
Like her big sister, Stella is a country music singer and songwriter. She was especially popular during the 1970s, and experienced chart success with songs such as "I Want to Hold You in My Dreams Tonight" and "Standard Lie Number One."
During her shows, Stella was often asked if she could perform some of Dolly's songs, and she was always happy to oblige. During one particular show, she chose to sing "Coat of Many Colors" since Dolly wrote it about their childhood and their mama's love for them.
A Funny Story To Share
But before Stella started singing, she decided to admit something a little bit embarrassing about her childhood. She started off by telling the crowd that her birthday coincided with one of Dolly's shows in Las Vegas, so Dolly invited her to come. While there, Dolly made a confession about the two of them that Stella wasn't prepared to handle.
"I was sitting out in the audience, and I was all dressed up," Stella said. "And she got right up on stage in front of everybody, and she told them that we used to pee in the bed when we was little."
At first, Stella tried to shrug off Dolly's admission as crazy talk, saying "she'll say anything." But she eventually admitted to her cackling crowd that what Dolly had to say was 100% true, they did indeed wet the bed as children.
It Gets Even More Hilarious
However, Stella was quick to note that Dolly left out one important detail concerning that aspect of their childhood. "She neglected to tell everybody that we not only wet the bed, but we used to fight over who peed the biggest circle," she said.
The crowd was clearly amused by that admission! After that, Stella started talking about "Coat of Many Colors," and praised her sister's songwriting. She said that they used to have competitions to see who could write the best lyrics, and Dolly always won.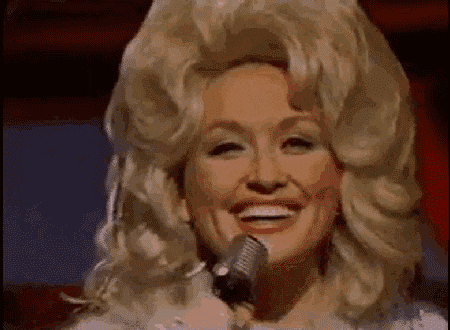 Still, there was one competition that Stella was able to win over her sister. "Dolly always wrote the best line, but I always peed the biggest circle," she said with a big grin.
Be sure to click here to listen to Stella describe her hilarious story in more detail. If you'd like to hear the live audio from that performance of "Coat of Many Colors," check out the clip below.
Clearly a good sense of humor runs in the Parton family as well!
Share on Facebook
Share on Facebook
Next