Steve Martin & Kermit The Frog Recreate 'Dueling Banjos' From 'Deliverance'
Funny Or Die / YouTube
The 'Deliverance' Of A Banjo Classic
As one of the primary instruments used in bluegrass, the banjo has close ties to country music. Country songs frequently feature the banjo, causing generations to fall in love with the instrument's twangy sound.
The love affair with the banjo has been going on for years, but really fired up following the release of a 1972 film Deliverance. That film featured a musical duel between two characters, appropriately titled "Dueling Banjos."
Following the film's release, the tune sat at the second spot on the Billboard Hot 100 chart for a total of four weeks. It was also a country hit, and peaked at the fifth position on the Hot Country Singles chart.
A Duel You Never Anticipated
Although Deliverance helped introduce "Dueling Banjos" to a large audience, the little ditty had been around since 1955. But after Deliverance debuted, it seemed that everyone was learning how to play it.
We've seen some pretty cool battles between talented banjo players on "Dueling Banjos" before, but never one like we're about to show you right now.
This particular "Dueling Banjos" face-off stars actor Steve Martin and beloved Muppet, Kermit the Frog.
Who Knew A Frog Could Play The Banjo?
Sitting on a log in the middle of a swamp, Steve started off playing first. He's been playing the banjo since he was a child, so he seemed confident with how he did. Well, until he heard Kermit play.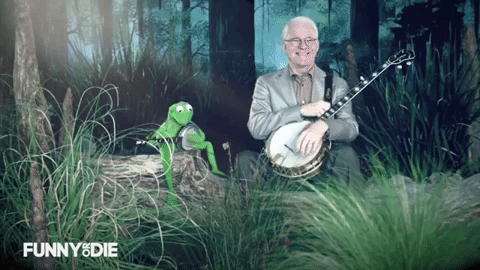 The two engaged in the signature showdown, with Steve playing a little snippet and Kermit mimicking it with a slight twist. But the best part came at the end when the two both started tearing away on their banjos at the same time.
No matter how hard he tried, Steve just couldn't compete with Kermit's banjo pickin' skills. Tune in below to watch the battle unfold!
Share on Facebook
Share on Facebook
Next