Remember Alan Jackson's Protest Against The ACM Awards…During The Live Broadcast?
Brian Brooks / YouTube
In case you didn't know, Alan Jackson was quite the rebel.
In 1999, Jackson and his good friend and hero George Jones were both supposed to perform at the CMA Awards, where Jones' song "Choices" was up for Single of the Year. The CMA told Jones he could only perform a shortened version of his song, but he refused to sing anything but the full version and ended up staying home that night.
Jackson was given a full performance slot for his song "Pop a Top," but, after hearing how the CMA had approached Jones about singing "Choices," he was upset. He decided that if Jones wasn't given the chance to sing his song the way he wanted to, he was going to make sure the country music legend was still recognized during the ceremony.
In the middle of an instrumental break in "Pop a Top," Jackson stopped singing his own song and broke into an emotional performance of "Choices," prompting the entire crowd to cheer.
His rebellion didn't actually start there
Five years earlier, in 1994, Jackson co-hosted the ACM Awards with Reba McEntire where he made waves for a couple different reasons – the first being his wardrobe choice.
Nowadays, it isn't uncommon to see someone wear a t-shirt and jeans to an awards show. In the 90s, these functions were still pretty much all black tie affairs. He did wear a tuxedo to start the show, and even accepted Single of the Year for "Chattahoochee" in it.
But shortly after, he changed into jeans, a Hank Williams t-shirt, and a tan cowboy hat, which puzzled the show's producer, Dick Clark. So much so, that Clark had to ask him about it during a short backstage interview.
Clark asked, "I should ask you a significant question. Here you are on television in front of millions of people. Why do you have a Hank Williams T-shirt on?"
And Jackson responded, "Well, I love Hank, and a fan…I get a lot of gifts on the road playing, and a fan gave me this shirt, and I just saw it in the closet before I came out here this weekend and I grabbed it and said, 'I'm gonna wear it for my song,' you know, 'Gone Country.' Hank's country."
Jackson kept the shirt on for his performance and the rest of the show, even accepting the Album of the Year award in it!
His Hank Williams shirt wasn't the only thing that people – and likely the ACM producers – couldn't stop talking about that night. 
Jackson was set to perform his hit song "Gone Country," but the ACM producers told him he'd be singing to a pre-recorded track, which he felt was dishonest to the fans.
To let everyone know that he and his band didn't agree with not playing live, he had his drummer Bruce Rutherford, go on stage without any drumsticks. When you watch the performance, you can hear drum sounds, but you can clearly see Rutherford behind Jackson with no drumsticks in his hands.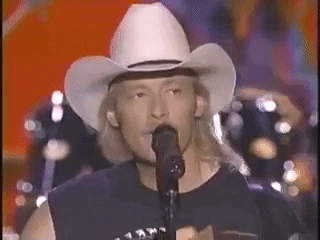 Dick Clark Productions and other ACM producers probably hoped that not too many people noticed the protest and never said anything about it. But we're still talking about it 25 years later, so clearly it made an impact!
Jackson certainly likes making a statement on live television, and we don't blame him. Watch the entire performance below for quite possibly the most subtle and badass protest in the history of country music.
Share on Facebook
Share on Facebook
Next