When Garth Married Trisha, He Asked His Girls To Look After Her If Anything Happens To Him
The Kelly Clarkson Show / YouTube
When Garth Brooks won the CMA's Entertainer of the Year Award during its 53rd ceremony, he ended his acceptance speech by declaring his love for wife Trisha Yearwood.
After the ceremony, Trisha gushed about her husband on social media, calling him the "Entertainer of the year and husband of a lifetime!"
Garth and Trisha married on December 10, 2005. They got engaged earlier that year after three years of dating.
When they married, Trisha instantly became a stepmom to Garth's three daughters from his previous marriage: Taylor, August, and Allie. The girls and Trisha bonded right away, with Allie calling the "Walkaway Joe" singer her "bonus mom" in an interview on the Children of Song podcast.
During a visit to The Kelly Clarkson Show, Garth explained how the bond between his daughters and Trisha was celebrated when the couple married. As he told Kelly, Trisha and all three of Garth's daughters exchanged rings and made vows to one another upon their marriage.
Garth explained why the girls and Trisha exchanged vows, saying he made them promise to look after her if anything ever happened to him:
"Because I told them, if something happens to me, you need to take care of the queen, you've got to take care of Miss Yearwood. And it was great."
The whole exchange took place over dinner, which was when Garth told the girls he and Trisha were getting married. He said he was "nervous" about how they would respond, when Allie piped up:
"I'm waiting for something intelligent to come back, and it was the youngest, Allie, that said, 'We've got your back bra strap.'"
Kelly lost it laughing after hearing Garth relay Allie's hilarious promise.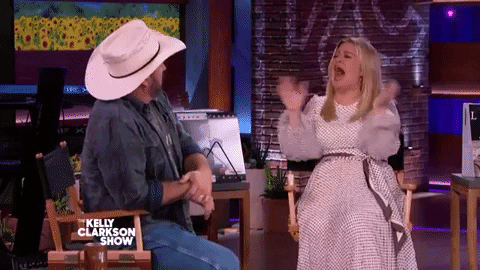 "That was the end of the conversation," Garth said, laughing as well.
You can hear Garth tell Kelly the whole story by watching the video below. It will make you go "aw" one second and have you crackin' up the next!
Share on Facebook
Share on Facebook
Next