Reba Can't Stop Smiling While Singing Her Very First #1 Hit 'Can't Even Get the Blues'
onepapa2 / YouTube
It's no secret that Reba McEntire is one of the most beloved country singers of her time. She was discovered at a rodeo in 1974 and had a record deal with Mercury Records just a year later. She released her first album in 1977 and five more with Mercury up until 1983. One of those albums was the incredible Unlimited, which was released in 1982.
Unlimited included her very first number one song, which was "Can't Even Get the Blues." After it hit number one on the Billboard Hot Country Songs chart, she was performing a televised show and took to the mic to talk to her audience.
"When we first got into the music business, there were a few things we were looking for, but number one was a number one record. Now that was seven years ago…and last December we found out we were gonna get one. We were thrilled to death thanks to y'all, but you know, since this song has gone number one, do y'all know what?" she asked the crowd.
"What?" they responded.
"We can't even get the blues a-no more!" she said with lots of sass.
Upon hearing those words, the drummer counted the band in and Reba started stepping side-to-side to the beat. Reba began singing the break-up song that took her to the top of the charts.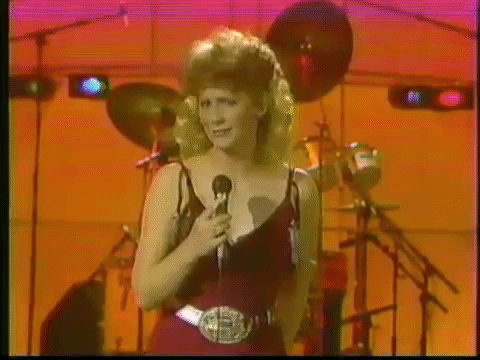 Seeing Reba introduce the song and then perform it, we couldn't wipe the smiles off of our faces, and we're sure you won't be able to either! Press play on the video below and get ready for some non-stop smiling ahead.
Share on Facebook
Share on Facebook
Next