Dwight Yoakam And Chris Stapleton Join Forces For 'Seven Spanish Angels' Cover
YouTube/CMAVEVO
The 50th Annual CMA Awards celebrated the history of country music, bringing out the best tributes from country singers of yesterday and today.
Roy Clark, Brad Paisley, Charley Pride, Alabama, Charlie Daniels, Clint Black, Alan Jackson, Reba McEntire, Brooks & Dunn, Garth Brooks, Trisha Yearwood, Carrie Underwood, Little Big Town, and many more were on hand to perform at one of the most memorable nights in country music history.
Throughout the night, modern artists teamed up with classic singers to sing classic songs, and when it was time for Chris Stapleton and Dwight Yoakam to perform, they did not disappoint.
Stapleton started off the song with his signature gritty vocals and spine-tingling harmonies from his wife, Morgane. Yoakam took the lead in the second half and Stapleton joined him for the final chorus.
The audience was loving every second of their Willie Nelson and Ray Charles tribute. The camera panned to legend Ricky Skaggs nodding his head to the beat in enjoyment, and to Brooks and Yearwood, who were cheering the two singers on.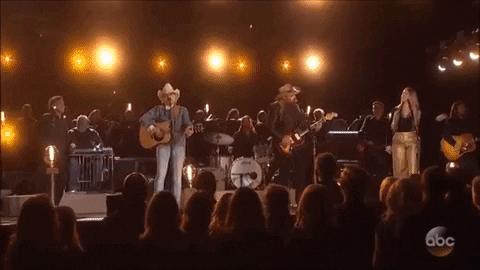 This performance was pure country which is why we aren't surprised that the CMAs teamed up this cowboy hat-wearing duo. You expect nothing but the best from each of these singers and boy, did they deliver.
Their incredible performance earned them a well-deserved standing ovation from their peers. Watch it below.
Share on Facebook
Share on Facebook
Next