'Voice' Coaches Don't Turn For Emmylou Harris Cover
The Voice / YouTube
It goes without saying that the coaches on The Voice can't turn their chairs for every person who participates in the blind auditions. Since the spots on their teams are limited, coaches have to be selective.
Sometimes, all four coaches fail to find that "something special" in a person's blind audition performance. While most of these auditions do not air, some do, just to provide a variety.
One audition that aired during Season 14 left at least one coach a bit puzzled while the others searched for that "wow" factor to make them push their buttons. In the end, no one turned their chairs around.
The contestant who performed this particular audition was Adrian Brannan. Dressed in a full-on cowgirl getup, Brannan took to the stage with a sassy performance of Emmylou Harris' hit song, "Two More Bottles of Wine."
Released in 1978, "Two More Bottles of Wine" topped the country music charts in both the U.S. and Canada. While it is one of Harris' most well-known works, it's a song that only the most devoted of classic country fans are familiar with.
Blake Shelton made it clear that he knows the song, because he could be seen singing along with Brannan at the beginning of her audition. But while he seemed into her performance at first, he eventually appeared to lose interest.
Later on in Brannan's audition, Kelly Clarkson turned to Shelton with a confused expression on her face. "I can't hear what she's saying," she mouthed to Shelton.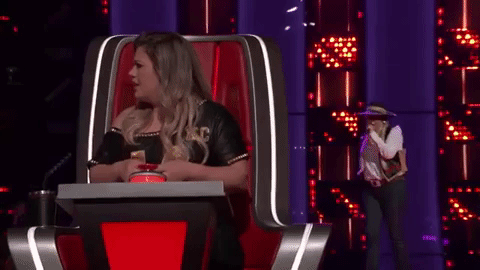 Like Clarkson, the other judges seemed a bit confused over Brannan's performance.
While none of the coaches turned their chairs for Brannan, we applaud her for her performance. She gave it lots of personality, and powered through even when no one had turned around for her.
Check out her blind audition below.
Share on Facebook
Share on Facebook
Next