Vince Gill Sings About Being 'Lost In A World Without Haggard'
Classic Country Music / YouTube
Vince Channels Emotion Into Song
If anyone knows how to write a sad song, it's Vince Gill. After all, he penned one of the most emotional songs in all of country music, his 1995 single "Go Rest High on that Mountain."
Gill poured his heart into "Go Rest High," which was written in honor of two influential figures in his life.
The first was country legend Keith Whitley, whose passing prompted Gill to pick up the pen and start writing the song. But it wasn't until his brother, Bob Gill, passed away in 1993 that Gill finished writing the song.
Gill penned yet another song in honor of one of his greatest role models…Merle Haggard.
Immortalizing "The Hag" In Music
When Haggard passed away, Gill was devastated. Following the news, Gill shared a candid photo of the two of them, writing that Haggard was his "greatest inspiration."
Just a few weeks after Haggard's passing, Gill finished writing a new song about his loss, called "A World Without Haggard." He debuted the song at the Grand Ole Opry, and it was just as emotional as you'd expect.
But emotions were running at an all-time high when Gill brought his song to the Grand Ole Opry in a special dedicated to "The Hag."
The Song Will Get To You Like It Did Vince
In the song, Gill sings about where he was when he first heard the news that Haggard had passed away. He then goes on to sing about how he never imagined he'd live in a world where there was no Haggard:
"He was my greatest inspiration.

The reason why I sing the blues.

I'm lost in a world without Haggard…It's a world I thought I would never see."
Gill couldn't help but get a bit choked up as he sang, and we can't blame him.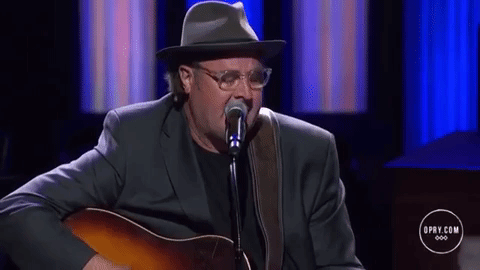 Go ahead and listen to Gill sing "A World Without Haggard" in the clip below. Keep the tissues close, because you'll need them for this one.
Haggard would be awfully proud of Gill for writing such a beautiful song.
Share on Facebook
Share on Facebook
Next