The One Thing Reba Said 'No' To As Host Of ACM Awards…
Reba McEntire / Instagram
Reba's Hosting Return Was A Hit
You could say that Reba McEntire knows a thing or two about hosting awards shows and special programs. The country music icon has hosted the CMA Country Christmas special for two years in a row now, and has been an off and on host of the ACM Awards for decades.
In 2018, McEntire returned to host the ACM Awards for the first time in years. She was a smash success, and had the everyone cracking up over her witty jokes, especially in her opening monologue.
McEntire's grand return as the ACM Awards' host was so well-received that the ACM invited her back to host the 2019 ceremony. She gladly agreed, and instantly jumped into a press tour to promote the awards, which are in April.
The One Thing That Was Off The Table In 2018
One of McEntire's first duties as host was to help reveal the nominees. She did so on Wednesday (February 20), announcing a few nominees on a Facebook Live video and naming the nominees attached to the most prestigious awards during an appearance on CBS This Morning.
While she was on CBS This Morning, McEntire also gave fans some hints as to what they can expect (and not expect) to hear from her as the awards' host.
If you paid attention to how McEntire handled things leading up to and during the 2018 ACM Awards, then you know the one thing she made certain to avoid discussing…politics.
During an interview with Rolling Stone in 2018, McEntire said she follows the lead of fellow country superstar Dolly Parton when it comes to how she handles politics. 
"I don't discuss politics," she says. "I never have and I echo Dolly's sentiments when she said, 'I learned a long time ago if you want to be in show business, keep your d— mouth shut.' I agree with Dolly 100 percent. My job is to entertain. I don't choose sides, I entertain"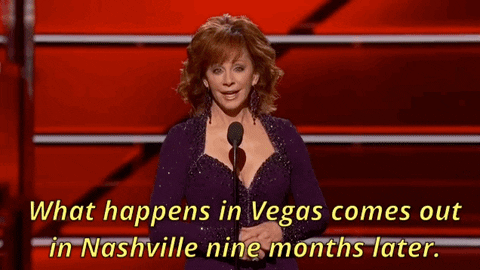 Does The Same Rule Still Stand?
So are politics still off the table at this year's ACM Awards? McEntire answered that question while speaking with CBS This Morning.
"We've got to keep it light," she said. "We've got to keep it fun. No politics. This is fun. This is entertainment. We are in the entertainment business, and that's what we're going to be doing."
She made it crystal clear what you can expect from her as an awards show host!
Tune in to the video below to watch McEntire's full interview with CBS This Morning. You can learn even more about how she's preparing for her hosting duties!
What do y'all think of what McEntire had to say about leaving politics out of the ACM Awards this year?
Share on Facebook
Share on Facebook
Next