Spunky 7-Year-Old Cowgirl Struts Her Stuff In Adorable 'Delta Dawn' Performance
Amanda Eaton / YouTube
For most seven-year-olds, singing in front of an audience would be pretty scary, but not for little Lexie!
Dressed to the nines in cowboy boots, a poofy skirt, and cowboy hat, Lexie strutted her stuff and took advantage of the entire stage during a performance of Tanya Tucker's hit song "Delta Dawn."
As soon as she started singing the lyrics of the well-known country song, Lexie began side-stepping to the beat, followed by some choreography that matched each lyric. Some of her dance moves were filled with so much sass, the audience began to giggle.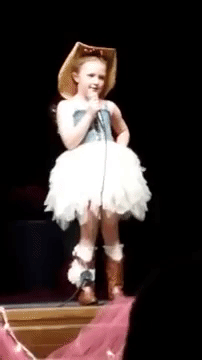 "Delta Dawn" was a massive hit for country star Tanya Tucker, who was just 13 years old at the time, in 1972. It reached the top ten on the Billboard country charts and remains one of her most well-known song to date. She was set to record the Donna Fargo song "The Happiest Girl in the Whole USA" as her debut single, but chose "Delta Dawn" after she saw Bette Midler perform it on The Tonight Show.
Lexie totally owned her performance and gained more and more confidence as the song went on, earning her a loud round of applause from the audience after singing the final note.
Watch Lexie's spunky performance below!
Share on Facebook
Share on Facebook
Next