Sam Elliott – And His Mustache – Compete In Old West Dance-Off To 'Old Town Road'
Doritos / YouTube
A few days before Super Bowl LIV, several commercials were released. It seems every year, companies choose to premiere some and/or parts of their commercials on YouTube before the big game.
One brand who always has Super Bowl commercials that are talked about for months after is Doritos. 2020 was no different.
On January 17, 2020, Doritos released a one-minute commercial starring the legendary Sam Elliott, who walks into a old western-style saloon dressed as a cowboy to ask the barkeep for a drink.
In his signature baritone voice, Elliott begins to recite the lyrics to the GRAMMY Award-winning song "Old Town Road." He continues reciting the words in a monologue style until he notices the ground shaking like someone important is approaching. Then, without saying a word, he turns and exits the saloon.
We weren't sure what to expect, but then on January 29, 2020, Doritos released a second clip. In this one, Lil Nas X, the original performer of "Old Town Road," rides in on his horse and meets Elliott in the street for a duel. Winner gets a bag of Cool Ranch Doritos.
They stare each other down, each wiggling their fingers as though they are going to grab for a gun when Elliott says, "Make your move, cowboy."
"Old Town Road" begins playing and Lil Nas X starts a dance off. He does a snake move with his arm, and Elliott rebuttals with the same move, except with his mustache!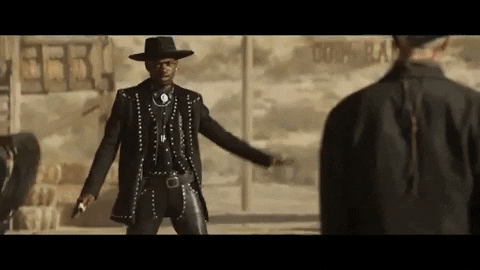 Their dance-off went on and on, with each celebrity busting out some impressive moves. Lil Nas X then jumped on his horse to do a synchronized dance with him and Elliott looked at his horse to see if they could do the same. His horse shook his head no, so Elliott – ever the class act – tipped his hat to the rapper/singer.
Cool Ranch Doritos in hand, Lil Nas X asked the camera, "Who got next?" and rode away on his horse.
The clip ends with Billy Ray Cyrus, who sang "Old Town Road" with Lil Nas X, playing guitar on a porch saying, "I ain't dancin'!"
Watch it below.
Share on Facebook
Share on Facebook
Next