Reba Watches While Kelly Clarkson Powers Through "Fancy" At Kennedy Center Honors
CBS / YouTube
Reba Recognized With Prestigious Honor
When it came time for the Kennedy Center Honors to name its 2018 batch of honorees, country music was represented by one of its brightest stars…Reba McEntire.
According to the Kennedy Center Honors' website, this prestigious honor is bestowed upon"exceptional artists who have made enduring and indelible marks on our culture." Anyone who has followed McEntire's career knows she fits that definition like a glove.
McEntire was recognized alongside the other 2018 honorees (including Hamilton co-creator Lin-Manuel Miranda, Cher, and several others) during a ceremony that took place on December 2. As in years past, a number of artists took to the stage to celebrate the honorees by performing covers of their famous works.
Some of the most meaningful country covers have emerged from past Kennedy Center Honors ceremonies.
For example, when Dolly Parton was recognized at the 2006 ceremony she was honored with a surprise "Islands in the Stream" duet between her own duet partner Kenny Rogers, and Carrie Underwood.
Parton enjoyed the performance so much, she actually jumped out of her seat at one point.
Plenty of people were rising out of their seats following one powerhouse performance in McEntire's honor at the 2018 ceremony. That performance was delivered by none other than Kelly Clarkson, who shares a special connection with the country legend you may not have known about.
Not Just Friends, But Family
In addition to being good friends and frequent collaborators, Clarkson and McEntire share family connections. In 2013, Clarkson married Brandon Blackstock, the son of McEntire's then-husband Narvel Blackstock. (Clarkson and Blackstock have since split as well).
Because of the connection they share, the tears were already flowing between the two singers long before Clarkson started her performance. She spoke of how McEntire has made a lasting impact on her life, not just as an artist, but as a member of her family.
With the emotions already running high, it was impossible for McEntire to hold back her tears as Clarkson kicked off her cover of "Fancy," one of McEntire's most iconic songs.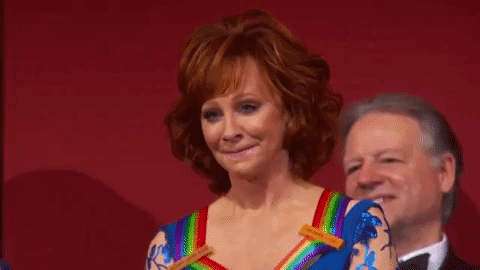 Quite The Impression
Clarkson's powerhouse cover left many audience members visibly impressed. As the camera panned over the crowd, various people could be seen looking stunned or mouthing the word "wow" whenever Clarkson would crush a powerful note.
But there's no denying that the one who was the most amazed by Clarkson's performance was McEntire. She remained teary-eyed almost the entire time, and was one of the first to give her daughter-in-law a standing ovation at the conclusion of her performance.
Now you can catch part of Clarkson's outstanding rendition of "Fancy" by tuning in to the clip below. Then, enjoy a video of the two of them singing the same song together some years ago!
Share on Facebook
Share on Facebook
Next