Reba McEntire Turns 'Back To God' In Breathtaking Music Video
RebaMcEntireVEVO / YouTube
Reba Goes Gospel
Reba McEntire thrilled the country music community when she announced her plans to release Sing it Now: Songs of Faith & Hope, which was her first gospel record.
Fans got the chance to hear plenty of new music from McEntire when the album dropped, because it's a double record.
The first record contains a total of ten tracks, all of which were hymns that McEntire grew up singing as a child. The second record contains completely new material, with a total of 11 tracks.
You May Have Heard This One Before…
The song "Back to God" is one of those new songs. It was written by country singer-songwriters Dallas Davidson and Randy Houser. While the song is new to McEntire, it has been around for a while. There are videos online of Houser singing it as his own concerts as early as 2008!
McEntire managed to take "Back to God" and make it completely her own. It's such a perfect fit, that it's almost as if Davidson and Houser wrote it with her in mind.
In January 2017, McEntire released a stunning music video to accompany "Back to God." McEntire has released many iconic music videos over the years, but we think this one may go down in history as one of the best.
A Video To Drive The Message Home
The entire music video for "Back to God" is a work of art. It opens in a cemetery, and shows an emotional couple walking to a grave with a small American flag next to it.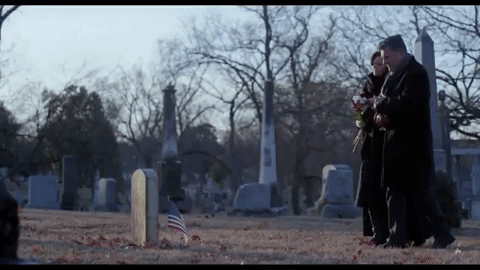 The scene then switches to show McEntire, who is walking through an empty church singing as the sunlight shines down on her from the intricate stained glass windows above.
As the video continues, it bounces back and forth between showing McEntire in the church and showing various people who are going through challenges in their lives. But by the end, the entire community comes together in a show of love for each other, despite their differences.
The video ends with everyone worshipping together in church. McEntire joins them in one of the back pews, serving as the uniting force that brings the whole video together.
This video is one of the most inspiring things that we've seen in a long time. Don't be surprised if you have tears in your eyes by the end.
Share on Facebook
Share on Facebook
Next