Darci Lynne & Puppet Sing For Kellie Pickler On Set Of Her Talk Show
Pickler and Ben / YouTube
America's Got Talent Winner Yodels Way Into Your Hearts
Ever since she competed on, and then won, America's Got Talent, Darci Lynne Farmer has been charming the world with her talents. In addition to being a skilled ventriloquist at a young age, Darci is also a gifted singer.
Darci incorporates her two talents into her acts, making her puppets sing in their own unique voices. Each puppet seems to have their favorite songs to sing, ranging from a little Ella Fitzgerald to an old country classic.
That old country classic is "I Want to Be a Cowboy's Sweetheart," which is the go-to song for Darci's country girl puppet, Katie.
If you know anything about the song, you know that it has some pretty lengthy yodeling parts. Not only does Darci sing those in her own voice, but she also sings them as Katie.
Darci Finds Place In Country Community
The fact that Darci can yodel with her mouth closed and do so in a voice different than her own is remarkable. It's an amazing sight to witness, and if you never have before, you can now.
While she was in Nashville one day, Darci stopped by the set of the now-defunct talk show Pickler & Ben. Hosted by country singer Kellie Pickler and Ben Aaron, the show often invited musical guests to perform, and they were typically country singers.
Even though Darci isn't a "country singer" by definition, her performances of "I Want to Be a Cowboy's Sweetheart" have prompted country fans to adopt her into the community. She even performed at the Grand Ole Orpy!
Better Than Ever
Before she sang, Darci sat down for a short interview with Kellie and Ben. She spoke for a bit about her time on America's Got Talent, saying that it was the greatest experience of her life.
After her interview, Darci stepped off to the side with Katie and started singing "I Want to Be a Cowboy's Sweetheart." Even though we've heard Darci do this bit many times before, her Pickler & Ben performance was just as entertaining as the first one we ever saw.
You can tell that practice continued to make Darci an even better performer. Her voice was as strong as ever, and her yodeling skills were top-notch!
Darci Leaves Kellie With Brilliant Impression
While everyone was surely impressed with Darci's performance, the only people we could see were Kellie and Ben. Kellie especially seemed to be enjoying what she heard, as she could be seen grinning ear to ear every time the camera showed her face.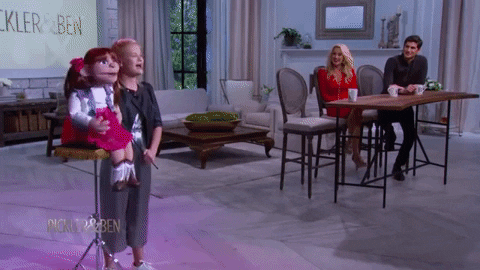 Watching Darci and Katie sing "I Want to Be a Cowboy's Sweetheart" below, you can understand why Kellie had such a reaction. In fact, you're sure to respond in the exact same way.
This performance makes us all the more excited to see what Darci will accomplish in the future!
Share on Facebook
Share on Facebook
Next