Crystal Gayle Shares Comical Old Photo Of Sister Loretta Lynn
Rick Diamond / Staff / Getty Images
A Family Full Of Talent & Love
There's a reason why Loretta Lynn came to love music as much as she does. Growing up, her entire family was a musical bunch, and they carried that talent and love for music into adulthood.
During an appearance on Pop Goes the Country, Loretta was joined on stage by her mom, Clara, who used to be a singer herself, as well as a dancer. Also joining the mother-daughter duo were a few of Loretta's siblings, including her sister and fellow country star Crystal Gayle.
Together, the family sang a song that Clara taught each of her eight children as they grew. The resulting performance is the perfect showcase of the family's talent.
It's clear from watching that clip just how close all of the Webb siblings were, even though there was quite an age gap between some of them (for example, Loretta is nearly two decades older than Crystal).
But despite their age differences and the varying paths their lives and careers led them down, the siblings always remained close.
Today, the family is a little smaller than it used to be, as some of the Webb siblings have passed away. Still, the siblings that remain are as close as ever, and look back with fondness on the times they shared together.
That's exactly what Crystal did when she dug up an old photo of herself with some of her brothers and sisters. She points out her brother Herman, sisters Betty Ruth and Peggy Sue, and of course, Loretta!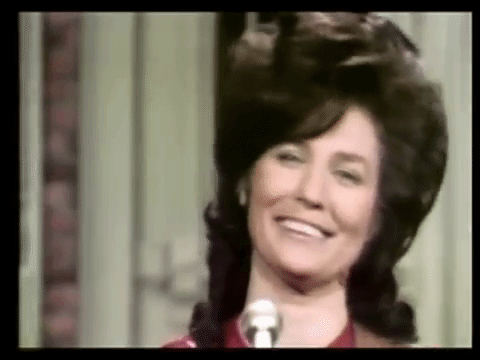 Loretta Snapped Snoozing
If it hadn't been for Loretta, the photo would have just been a sweet family snapshot. And while it's still a precious picture, it's also a source of comedy, and all because of how Loretta chose to pose.
Instead of standing with her other siblings or sitting next to Crystal, Loretta decided to stretch out on the porch swing and close her eyes, resting her head in Crystal's lap.
"I'm sitting on the swing while Loretta is taking a great nap!" Crystal lovingly pointed out in the caption to the photo.
Hey, we can't blame Loretta for taking the opportunity to get a little rest. She looks mighty comfortable!
This photo is just one of many things that shows how close Loretta and Crystal are. Back when Crystal was inducted into the Grand Ole Opry in 2017, Loretta knew she had to be on hand for the monumental occasion.
The way Loretta looked at and spoke about her sister showed just how much admiration she has for her. And Crystal was looking right back at her in the same way! You can watch the precious moment between the two sisters below.
We hope Crystal finds more old photos of herself and Loretta like the one she just shared, because we love seeing them! 
Share on Facebook
Share on Facebook
Next