'9 To 5' Sequel Canceled – Dolly Parton Tells Reporter It Was 'Dropped'
Sunset Boulevard / Contributor / Getty Images
The 1980 film 9 to 5 was such a hit, fans started hoping for a sequel right away. And it seemed like they were destined to get one. A followup film was rumored to be in the works not long after the first movie debuted.
But while Dolly Parton was on board to return for the sequel, her co-stars Jane Fonda and Lily Tomlin were not. So the original plans for a sequel were tossed aside.
It wasn't until 2005 that Tomlin and Fonda expressed interest in revisiting their 9 to 5 characters. Still, no sequel news emerged.
Then, in early 2018, Deadline Hollywood reported that at long last, plans for a 9 to 5 sequel were finally in motion. A few months later, Fonda confirmed the news, saying that she, Tomlin, and Parton would all return for the sequel.
Parton dished out more details on the sequel during a radio interview in October 2018. She said that while she, Tomlin, and Fonda would reprise their roles in the film, it would also focus on a group of younger employees dealing with the same sort of issues their characters dealt with decades ago.
She described the general premise of the sequel as such:
"There's three new girls that are workin' at Consolidated…and they're having those problems – same as we did then. So they go, 'Who are these women that made these changes then? Let's look 'em up!' So they find us around the country, all successful women – older women with businesses – so then we kind of get together with them and kind of stir up some fun, get in some trouble."
Parton then provided an update to The Hollywood Reporter in December 2018. She said the first scripts for the film were ready, and they hoped to start working on it "in the new year."
But now 2019 is coming to a close, and all talk about a 9 to 5 sequel has ceased. Curious for an update, ET's Keltie Knight asked Parton about the sequel during a red carpet event for her new Netflix series, Dolly Parton's Heartstrings.
Parton had some discouraging news to share during that interview. She said she doesn't think they're going to the sequel, and revealed that she, Fonda, and Tomlin "dropped [the] whole idea."
She explained why they chose not to move forward with the sequel, saying, "We never could get the script where it was enough different than the first one, and that one turned out so good."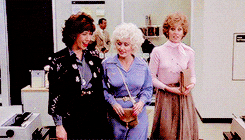 But those who love watching Parton, Tomlin, and Fonda together still have something to hold on to. Even though plans for a 9 to 5 sequel are no longer moving forward, the three actresses still intend to work together on a future project.
"We're thinking we might do a completely different thing together, Jane, Lily and I," Parton said."We may do something different altogether, but I don't think we'll continue with [the sequel]."
While we're sad to hear that the 9 to 5 sequel has been shelved, we're happy to hear that the three co-stars still want to work together on something at a later date. They made such a great team in 9 to 5, which you can see in the below clip of outtakes from the movie.
Share on Facebook
Share on Facebook
Next