Trisha Yearwood Tours Set Of Her Cooking Show, "Trisha's Southern Kitchen"
Trisha Yearwood / Facebook
Just like Garth Brooks has his weekly Facebook Live session Inside Studio G every Monday, his wife Trisha Yearwood has her own Facebook Live series. Hers, called T's Coffee Talk, takes place on Saturday morning.
In most Coffee Talks, Yearwood takes on a casual approach. She'll hang out on a comfy couch or cozy up with a friend outdoors to chat about things going on in her life. She mainly talks about her cooking show, Trisha's Southern Kitchen, and often gives fans a glance at the recipes she makes each episode.
Just take the following Coffee Talk as an example, in which Yearwood talks about an episode of the show that was all about cheese.
On the Coffee Talk that Yearwood shared on September 15, 2018, she gave fans an even more in-depth look at her Emmy-winning television series.
The clip opened with Yearwood hanging out with her hair and makeup crew, giving you a glimpse at the process she goes through to get ready for every episode of Trisha's Southern Kitchen. The camera also pans to show the wardrobe area, with racks upon racks of clothing lining the room.
From there, Yearwood moved into the living room area you may recognize from past shows and Coffee Talks. But she didn't stay there long, because she wanted to show everyone the most famous room in the house…the kitchen.
If you've always dreamed of getting a behind-the-scenes tour of the Trisha's Southern Kitchen set, this video is sure to satisfy you. In addition to showing parts of the set that you never see on TV, Yearwood took some time to share a few secrets about how the show is made.
For starters, Yearwood revealed she has a little alcove in her countertop where she stores extra ingredients or hides things she doesn't need any more. So if you've ever seen Yearwood reaching below her and to the side during her show, now you know what she's been doing!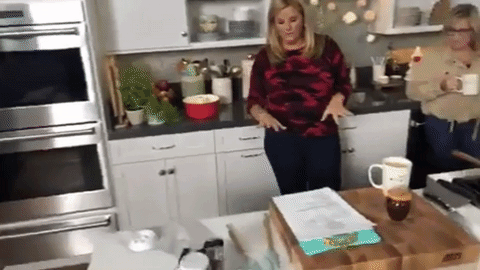 Also, Yearwood talked about the order that they film things. If you've ever seen an episode of Trisha's Southern Kitchen, you know that sometimes Yearwood leaves the set for "field pieces" to go out and shop or do something else. Well as Yearwood shared, they often film those pieces on separate days from the kitchen scenes!
As for the kitchen scenes themselves, Yearwood says they often film material for multiple shows in one day of shooting. For example, on the day of the Coffee Talk, they were filming a show that would air in January and were also filming a special Christmas episode.
That's why you see Christmas decorations behind her on set!
Now that you have a little more behind-the-scenes knowledge about Trisha's Southern Kitchen, apply it to a clip of one of our favorite episodes below.
Who else would love the chance to cook with Yearwood one day?
Share on Facebook
Share on Facebook
Next