Reba Slings Lasso Over Matthew McConaughey On "The Late Late Show"
The Late Late Show with James Corden / YouTube
Reba & Other Stars Showcase Their Hidden Talents
Late Late Show host James Corden remarked that his guest couch featured one of the most talented lineups he had ever seen when Reba McEntire, Jimmy Buffet, and actor Matthew McConaughey all sat down on it together.
Wanting to test the true depth of the stars' talents, Corden engaged them in a little game he called "Yay or Nay." He would asked each star if they were capable of performing a certain talent, and they would answer "yay" if they could and "nay" if they couldn't.
Through the game, Corden discovered that the three stars are even more talented than he thought! He started with Buffett, asking him if he knows how to play the trombone, and it turns out that he does!
McEntire was up next, and Corden shared something about her that few fans knew before. She actually comes from a rodeo background, with her father, Clark McEntire, being inducted into the Pro Rodeo Hall of Fame.
As for McEntire, she also competed in her fair share of rodeo events when she was younger.
Knowing about McEntire's rodeo roots, Corden asked if it would be possible for her to lasso a "steer" in front of the live studio audience. But he made sure to clarify that by "steer," he actually meant McConaughey.
Did Reba Succeed?
McEntire was up to the challenge, and started to untangle her rope while McConaughey, wearing a viking helmet with horns, started kicking and bucking around.
The red-headed country superstar finally managed to get the lasso untangled, and started spinning it around her head in a circle. You can bet that the crowd went wild when she did that!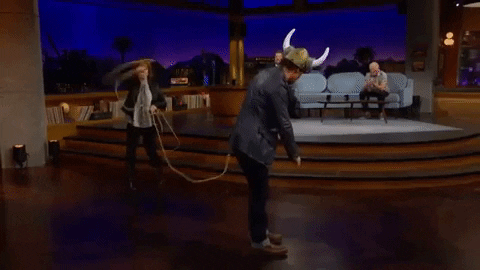 Then, McEntire gave the lasso a good toss and managed to rope McConaughey on her first attempt! The lasso caught him right around the horn, and McEntire then jumped in to secure the rope around his body.
After that, Corden gave McConaughey an easy task…sing "Margaritaville" along with Buffett. It was actually a pretty impressive performance!
Y'all are sure to be even more impressed when you watch McEntire toss her lasso over McConaughey in the video below. Bet y'all never knew she had that kind of cowgirl talent!
Share on Facebook
Share on Facebook
Next