Newlyweds Bring Waylon Jennings Classic To 'The Voice'
The Voice / YouTube
Season 16 of The Voice has begun and it looks as though the talent is better than ever. Each season, more and more singers audition, making the process so much harder every year.
This season is no different.
Husband and wife duo Nathan & Chesi Arnett are two of the people who have made the audition process harder than ever due to their obvious talent.  Singing the Waylon Jennings song "Waymore's Blues," the married duo surprised coaches Blake Shelton, Kelly Clarkson, John Legend, and Adam Levine with two very different voices.
Because it was only released as a B-side, "Waymore's Blues" wasn't a big hit for Jennings, but it still went on to become a fan-favorite with the passage of time. One memorable performance Jennings gave of the tune was on Cowboy Jack Clement's TV show.
"It's about Jimmie Rodgers, and this, and that, and the other. I don't know what it's about, really," he said before singing the song. In the middle of the song, Jennings and his wife Jessi Colter exchanged some flirty banter about the meaning of the song.
"It don't make any sense," he admitted. "It does, but it don't. I had to really dig to get a story out of it."
The Voice coaches don't know who will be performing for them, since their backs are turned to the stage during the Blind Auditions. They truly had no clue a duo was about to sing for them.
Nathan started off the song in his lower register, followed by his bride, which visibly confused both Clarkson and Legend, with the "Love So Soft" singer even asking herself, "Is there two?"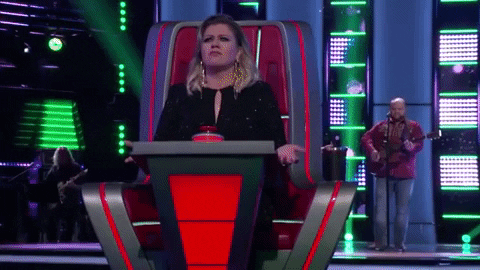 It wasn't until Nathan and Chesi harmonized together that the coaches put it together that they were actually listening to a duo perform. Throughout the entire audition, Clarkson was completely torn, audibly saying she would want to hear what they sound like on another song.
In the end, all four coaches didn't hear what they were looking for, which meant Nathan and Chesi would be going home empty-handed, but not before giving the couple, who were married in March 2018, some feedback.
"The key was too high," Blake told them, while Legend admitted he was confused on what to do with two voices. It seemed as though he was unaware duos and trios could even audition!
"I wish it were a different song, I would love for y'all to come back because I actually really dig y'all's sound," Clarkson said.
Down, But Not Out
Although they didn't make it on a team, Nathan and Chesi were called back for the Comeback Stage, which is a newer element to the show having just started last season with "fifth coach" Kelsea Ballerini.
This season, Bebe Rexha is the Comeback Stage coach and will mentor a few contestants who didn't get a chair to turn in the blinds. In the end, the two top artists will compete in an Instant Save and America will vote to place one of the two contestants in the Top 13. The Comeback Stage episodes can be viewed on The Voice app or on YouTube.
Watch Nathan and Chesi's audition below.
Share on Facebook
Share on Facebook
Next