Loretta Lynn Responds To Young 'Voice' Star's Cover Of Her Iconic Song
The Voice / YouTube
Young Voice Star Keeps It Country
Every season of The Voice, it becomes clear pretty early on who the frontrunners are going to be. In Season 15, it was obvious from the start that Team Kelly's Chevel Shepherd was going to be one such contestant.
As country as she can be, this talented 16-year-old singer charmed Voice viewers week after week with some of the genre's greatest songs. Her songs ranged from Kacey Musgraves' "Space Cowboy" to the Dixie Chicks' "Travelin' Soldier," and every one resulted in an outstanding performance.
Once she made her way into the Top 10, Shepherd kicked up the country vibe even more with a performance of a song that literally celebrates the country way of life. We bet you know what we're talking about…
When You Look At Chevel, You Look At Country
That song would be Loretta Lynn's iconic hit, "You're Lookin' at Country."
Written by Lynn, the song has her celebrating everything that makes her the country girl she is. As she sings, "I love runnin' barefoot through the old cornfields and I love that country ham."
Shepherd's performance of the song made it clear that when you look at her, you're also seeing nothing but country. The young singer donned a Western-style outfit for the occasion, accessorized with a hairstyle reminiscent of a younger Lynn.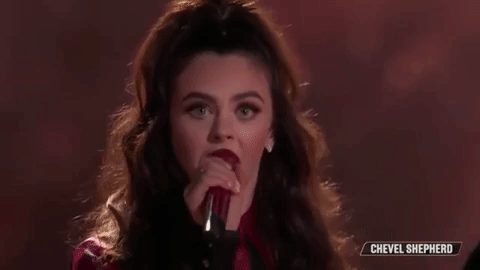 But the thing that made Shepherd's country persona the most obvious was her voice. She perfectly captured that classic country sound, and accented it with a little yodel here and there for an added touch. Now that takes skill!
Earning High Praise
It should come as no surprise that once the show went off-air, viewers were still buzzing on social media about what they just witnessed from the talented young singer.
As lovely as all of those compliments were, the best came from none other than Lynn herself! The day after Shepherd's performance, the country music icon took to social media to praise her for a job well done.
"Loved it, honey!" she wrote, while also sharing a snippet of Shepherd's performance with her fans.
That's some pretty high praise right there!
Now it's time for you to check out the performance that managed to impress Lynn by tuning in to the clip below. It's clear that Shepherd has a solid future ahead of her…and the support of people like Lynn to back her up!
Share on Facebook
Share on Facebook
Next