Learn The Steps To Alan Jackson's "Good Time" Line Dance
alanjacksonVEVO YouTube Channel
Alan Writes The Perfect Song For A Fun Time
In 2008, country fans all around were kicking up their heels to a new tune. Just in time for summer, Alan Jackson released a new single, fittingly called "Good Time."
Apparently, fans had a good time listening to the tune, because it shot to the top spot on the charts and became Jackson's 24th number one hit overall.
The fun-loving tune centers on a narrator who's ready to have some fun after a long week of work. Jackson, who wrote the song himself, told Nash Country Weekly that he always aims to write songs that his fans can enjoy, like "Good Time."
"I've just always written things that are simpler… just things that I like and my fans still like," he said. "[Fans] would just rather have something that makes their day easier."
Jackson added further to the carefree feeling of the song when he released its music video, directed by notable music video director Trey Fanjoy.
Line Dance Created Just For The Video
The video shows Jackson performing with his band on a stage in the middle of a road, and is most notable for its many extras who star in it.
During the video, hundreds of people come forward and proceed to groove to a line dance created specifically for the song. The line dance was the whole focal point of the video, with actors posing as news reporters showing up on the scene to report on how it was breaking a record.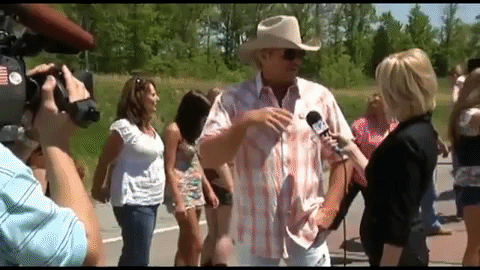 Jackson's video helped reignite some interest in the good ole country pastime of line dancing, with many wanting to learn the dance to "Good Time" in particular. If you're one of those people, then you're in luck, because the video's choreographer conveniently broke down all of the steps in an instructional video.
Now You Can Learn That Famous Dance Too
Choreographer Jenny Cain slowly describes the steps, which include easy moves such a cha-cha and a shimmy. Then the video shows the extras learning the dance before it jumps to show them performing it for the official music video.
The dance is so easy that you'll be able to pick up on it in a snap, and then you're set to have a "Good Time!" Learn how to do the dance by watching the video below.
We don't know about you, but we could dance to this song all day!
Share on Facebook
Share on Facebook
Next