Dolly Parton Dishes Long-Awaited New Details On Project Decades In The Making
NBC / Contributor / Getty Images
One Of The Most Wanted Sequels Ever
In 1980, Dolly Parton, Lily Tomlin, and Jane Fonda had millions laughing and singing along to their hit film, 9 to 5. The workplace comedy focuses on characters played by the three women, who stand up to their jerk of a boss.
By the end of the film, each one of the female characters gets to live their own form of "happily ever after" once they get their boss sent to Brazil.
The film was a huge hit, and it didn't take long for fans to start expressing their desires for a sequel. Originally, it seemed like those desires were going to be met right away, as a sequel was reportedly in the works shortly after the first film's release.
But those plans were shelved, and while 9 to 5 earned a television series and a Broadway musical, the much-wanted sequel never arrived.
Despite this, rumors and reports persisted over the next few decades that a new film was in the pipeline.
Dreams Do Come True
Finally, those rumors proved to be true when, in early 2018, Deadline Hollywood reported that the 9 to 5 followup was in the beginning stages, and that Parton, Tomlin, and Fond were "circling" the project.
A few months later, Fonda confirmed that the report was true, saying that she, Parton, and Tomlin would all be returning to reprise their roles in the sequel.
Dolly also spoke about the sequel news, telling the hosts of country radio show Ty, Kelly & Chuck in October what she knew about the film at that time.
 "There's three new girls that are workin' at Consolidated…and they're having those problems – same as we did then. So they go, 'Who are these women that made these changes then? Let's look 'em up!' So they find us around the country, all successful women – older women with businesses – so then we kind of get together with them and kind of stir up some fun, get in some trouble."
Something To Get Excited About
Parton dished out a few more anticipated details about the film during a brand-new interview with The Hollywood Reporter. In the interview, Parton shared an exciting piece of news about the film's progress…the first scripts are ready!
"We are supposed to have the first scripts in our hands within days," Parton said. "Of course, we will have to see what our thoughts are, and it will have to be rewritten a time or two, I'm sure."
Parton shared her hope is that they are able to start work on the 9 to 5 sequel "in the new year." She also reiterated what she told Ty, Kelly & Chuck, saying that the film will focus on three younger characters who come to Parton, Tomlin, and Fonda's characters for advice.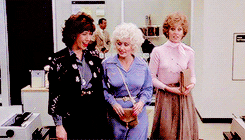 "I'm very proud that 9 to 5 just keeps paying off," Parton said. "It is the song and the movie that just will not die!"
While the 9 to 5 sequel plans seemed to die decades ago, they are clearly thriving today! Get yourself hyped up for the new film by watching some of its hilarious outtakes in the compilation clip below.
Share on Facebook
Share on Facebook
Next