Dog & Owner Team Lukas & Falco Perform Dance Routine To 'Footloose' On AGT Season 14
America's Got Talent / YouTube
The America's Got Talent judges have seen their fair share of talented pets over the years, but they've never seen anyone like Falco the Border Collie!
9-year-old Falco joined his devoted owner Lukas on the AGT stage and instantly won the judges over before he ever performed his first trick. The judges could tell how much Falco loved Lukas, and vice versa.
Lukas said they would be performing a freestyle routine, and the judges eagerly waited to see what the pair would do as they got in position. Then the music kicked off, and it was a tune that we're sure y'all have heard many times before…"Footloose."
The upbeat track was first recorded by Kenny Loggins in 1984 to serve as the theme song for the film of the same name. Both the film and the song were huge hits, and led to a remake of the movie in 2011.
"Footloose" was performed by Blake Shelton for that film, and his version was also a success.
The remake movie starred country singer/dancer Julianne Hough as Ariel Moore. And it just so happens that she is now a judge on AGT, which put some added pressure on Lukas and Falco to pull off their routine!
But they had no need to worry, because Falco nailed every trick in his fast-paced dance. He sported some fancy footwork, tied his owner up with a lasso, and even jumped on top of his back!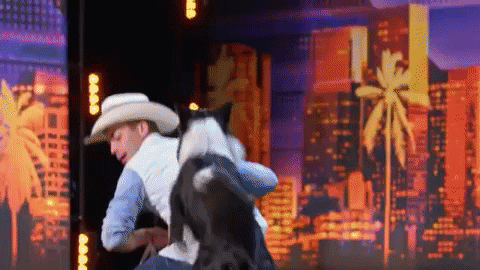 The judges were mesmerized, and so was the crowd. By the end of the performance, everyone was on their feet, giving Falco and Lukas a standing ovation.
So it came as no surprise that all four judges voted to send the pair on into the next phase of the competition. Lukas broke down in tears after the last "yes" vote was cast by Simon, and rewarded his furry friend with some well-earned pats.
Watch Lukas and Falco's audition in the video below. They went on to become semifinalists on their season!
Share on Facebook
Share on Facebook
Next