Bobbie Gentry Came Out Of Hiding For 2014 Event, Photo Shows
Capitol Records, Public domain, via Wikimedia Commons
For almost 40 years, one of country and pop music's biggest superstars has been hiding from public view after allegedly getting sick and tired of dealing with the industry and the muck that can come along with it.
But now, just one single photo has surfaced showing her emerging from isolation…
Bobbie Gentry, born Roberta Lee Streeter, was just 23 years old when her timeless ballad hit the charts and took off like wildfire, selling more than three million copies and topping the country, pop, rock, and easy listening charts.
But, in a moment almost as mysterious as the unnamed item Bille Joe McAllister threw off the Tallahatchie Bridge before taking his own life…Bobbie Gentry completely vanished from the public eye.
In 1967, her multiple Grammy-winning song "Ode To Billie Joe", was issued to the charts – not as an overproduced single with a lot of fanfare, but using the original demo recording Gentry submitted along with an added string section.
Gentry would go on to find great success from her music, with popular duets alongside Glen Campbell, songwriting wins with Reba McEntire's cover of "Fancy", and she became the first woman to ever host a variety show on the BBC.
After major success, she began to fade from the spotlight…
During the latter section of her nearly two decades in the public eye, Gentry spent a majority of it in Las Vegas exploring her own creativity in new depths. She crafted glamorous, glitzy, and fabulous stage shows that were lauded by critics for their striking set design. Additionally, she has been credited with designing a majority of the wild costumes and the impressive dance choreography used in those over-the-top shows.
Less than 20 years after her smash breakthrough into the world of entertainment, Bobbie Gentry performed a career-first…and last. Set to take the stage with Mac Davis during a 1983 concert, Gentry canceled the show abruptly – something she had never done before.
Once a fan-favorite performer…her vanishing act has left the world puzzled. 
After that canceled performance, Gentry was spotted a handful of times at industry events, and then utterly vanished without a trace, withdrawing from the public eye to lead a secret, private life.
While that privacy was hard-fought and won for 37 years, it appears that Gentry came out of hiding for at least one event in 2014 – and this recently revealed photo shows what Gentry looks like after all this time.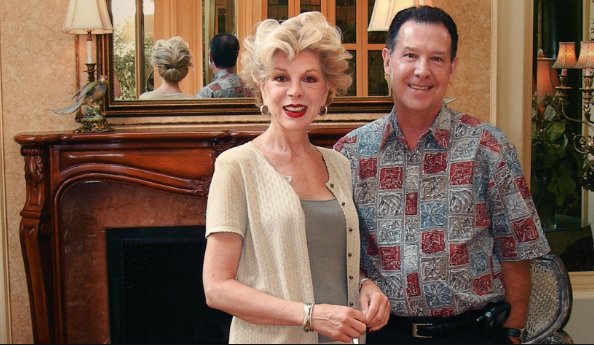 Gentry was photographed beaming a great big smile and looking amazing for 72 (she is now 77.) To say that she looks different would be a lie – and it's clear without any further evidence that Bobbie Gentry hasn't changed a bit!
It is highly likely that this is a brother or cousin of Gentry as he shares the same surname as Gentry's birth name – Streeter. But it is still unconfirmed.
What an amazing new discovery! Join us in honoring her legacy of songwriting and crossover country hits by watching her sing "Ode To Billie Joe" below!
Share on Facebook
Share on Facebook
Next