Bluegrass Band Greets New Year By Pickin' To "Auld Lang Syne"
Reina del Cid / YouTube
The History Behind Biggest New Year Tradition
While Christmas has an endless number of songs associated with it, the holiday that immediately follows really only has one. Still, that song has managed to stand the test of time, as it has lasted for well over two centuries.
That song, of course, is "Auld Lang Syne."
Originally written as a poem by Scottish poet and lyricist Robert Burns in 1788, "Auld Lang Syne" was set to the tune of a popular folk song at the time.
It's unclear exactly how the song came to be associated with New Year's Eve, but it was a regular part of such celebrations for quite some time. However, it didn't rise to major prominence until 1929, after Canadian-American band leader Guy Lombardo and his band played "Auld Lang Syne" at midnight as the radio broadcasts transitioned.
Lombardo and his band continued to play the song every New Year's Eve that followed. After his death, the song remained a New Year's Eve tradition, and continues today.
Keeping The New Year Country
As is the case with any longstanding song, there are countless renditions of "Auld Lang Syne" out there today. A number of country stars have offered up their voices to the tune, with perhaps one of the most famous versions being by Elvis Presley in 1976.
The performance marked Elvis' final New Year, which is why the recording is such a treasured piece of history.
"Auld Lang Syne" is so popular, it has been covered by artists of all genres. Other than Elvis and other country artists, a few stars who have also performed the song include Mariah Carey, Prince, and Rod Stewart.
But just when you thought you'd heard it all, we have an entirely different style of this New Year's classic for you to enjoy…and it's as Southern as can be!
Can't Beat A Bluegrass New Year
Have y'all ever heard a bluegrass rendition of "Auld Lang Syne" before? Well, if you haven't we've got the cream of the crop for you to listen to right here.
A few years back, a group of young bluegrass musicians got together to play the New Year's Eve staple. Even after all this time, it's still one of the most-viewed performances of the song on YouTube.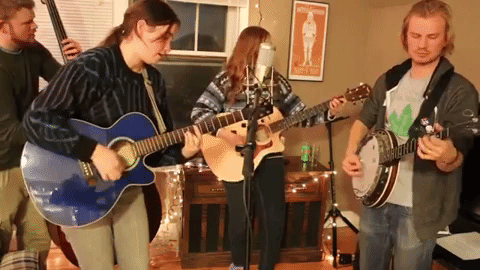 Once you watch their performance below, you'll understand why. Nothing beats the sound of some pure bluegrass pickin', that's for sure!
So go ahead and get ready to crank this one all the way up after the ball drops and the clock strikes midnight. What better way to ring in the New Year?
Share on Facebook
Share on Facebook
Next