8 Facts To Know About Award-Winning Movie 'Steel Magnolias'
logotv/Instagram
In 1987, an off-Broadway play made waves when a Hollywood producer saw it and fell in love. It was quickly turned into the movie Steel Magnolias and is now one of the most beloved movies of all time.
With several characters that every female friend group can relate to, these six ladies were Squad Goals before we even knew what a squad was!
Sally Field (M'Lynn), Dolly Parton (Truvy), Shirley MacLaine (Ouiser), Daryl Hannah (Annelle), Olympia Dukakis (Clairee), and Julia Roberts (Shelby) were the epitome of Southern women and embodied their famous sass, stubbornness, loyalty, and do-anything-for-a-friend mentality.
It became 1989's 14th highest grossing film and is cluttered with one-liners, heartfelt moments, and emotional ones too.
While you may be a Steel Magnolias fan, there are a few things people don't know about the movie and we're going to let you in on the secrets! Let's take a look at eight things you may not know about Steel Magnolias.
1. Based On A True Story
Writer Robert Harling wrote Steel Magnolias after his sister, Susan, passed away from complications with Type I Diabetes. Susan became the bubbly and beautiful character of Shelby. Diving into writing was a way for him to cope with her death. He wrote the play in ten days.
2. Hollywood Icon Bette Davis Campaigned For A Role
Once Harling agreed to a movie deal, legendary actress Bette Davis began campaigning for a role in the movie. She had seen the play in New York and desperately wanted to play Ouiser. Apparently, she thought Katharine Hepburn would make a great Clairee and she wanted Elizabeth Taylor to play Truvy.
Harling once told The Morning Call that Davis invited him to tea to try and persuade him. When he left the meeting, she told him, "You may give the role of Ouiser to someone else. But you and they will hear from Bette Davis."
She didn't give up without a fight!
3. Famous Actresses Were Signed On To Play Shelby
Over 20 years after the film was made, it's hard to think of anyone else playing Shelby other than Julia Roberts! At the time, she was a pretty unknown actress and before she auditioned, Meg Ryan (left), Winona Ryder (middle) and Laura Dern (right) were all attached to the role of Shelby.
Just imagine any of them saying, "Pink is my signature color." Nope!
4. Julia Roberts Barely Auditioned
Harling once told The Daily Mail that he knew Roberts was the perfect person for the role of Shelby the second she walked in the door.
"She walked into the room and that smile lit everything up and I said 'That's my sister'," he said.
Following the film, which earned her her first Oscar nomination, she became a household name.
5. Daryl Hannah Was Told She Was Too Attractive
Although Hollywood starlet Daryl Hannah was told she was too attractive for the role of reclusive Anelle, she did not take "no" for an answer.
Hannah showed up for her audition and the casting directors didn't even recognize her.
"For Daryl, who had never played a character role up unto this point," the film's director, Herbert Ross, told Turner Classic Movies. "It was a real departure and she sought out the role and convinced me and [producer] Ray Stark that she could handle the role."
6. Dolly Parton Was Told To Take Acting Classes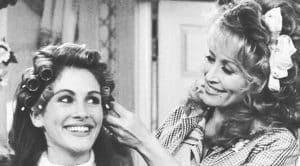 Director Herbert Ross was known for being especially tough on the stars of the film and even challenged Dolly Parton's talent as an actress.
MacLaine told Us Weekly, "I remember the day Herb said to Dolly, 'Why don't you take some acting lessons?'"
MacLaine and her fellow co-stars were appalled! "You don't say that to Dolly Parton!" Sally Field said. "Dolly Parton is absolutely the funniest, wittiest and filthiest, and she will cut you to ribbons!"
We're glad Dolly's co-stars had her back!
7. Julia Roberts' Chemistry With On-Screen Husband Was Real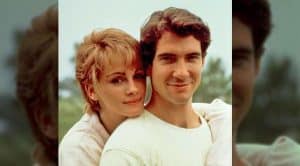 Dylan McDermott played Roberts' character's fiancé turned husband, Jackson, and there was a reason they looked so in love.
At the beginning of filming, Roberts was dating actor Liam Neeson but reportedly broke up with him for McDermott. According to mentalfloss.com, the couple eventually got engaged but broke up in 1990.
8. There Are Steel Magnolias Tours!
The movie was filmed in Robert Harling's hometown of Natchitoches, Louisiana. Filming there was one of his stipulations before agreeing to do the movie.
Many fans visit the town to see the film's locations and you used to be able to sleep in M'Lynn's house! It was turned into a bed & breakfast and appropriately called The Steel Magnolias House. While the house was sold, there is still plenty to see in Natchitoches! Find out more information here.
Steel Magnolias is one of our favorite movies and we had so much fun compiling this list for y'all! What is your favorite unknown fact?! Sound off in the comments section.
Share on Facebook