'Voice' Cowboy Embraces Inner Outlaw With Rowdy Rendition Of Travis Tritt Hit
The Voice / YouTube
Cross Battles Singer Comes In With Country Hit
When the Season 16 Voice contestants learned that the knockout rounds were being replaced with the new cross battles, they knew they had to step up their game. While the winners of the knockouts were always determined by the coaches, the winners of the cross battles are voted on by the viewers.
The cross battles are extra challenging because singers don't know who they're competing against until they take to the stage. On top of that, their competitors come from another team.
Knowing that he had a challenge ahead of him, Team Blake's Andrew Sevener pulled out all the stops to fight for his place on the show.
The cowboy hat-wearing singer tore into one of Travis Tritt's most well-known hits, 2002's "Modern Day Bonnie and Clyde." As the title suggests, the song tells the story of a man and a woman who engage in criminal activity together and take off on a run from the law.
Listeners couldn't get enough of the rowdy track, and sent it all the way to the eighth spot on the Hot Country Songs chart.
This Voice Singer Crushed It
Sevener poured an immense amount of energy into the song, which is what made his performance thrilling to watch. He used the stage to his advantage, walking from one side to the other as he worked the crowd.
Everyone was engaged in his performance from the get-go. His fellow competitors could even be seen standing in their special seating area, clapping and cheering as he sang.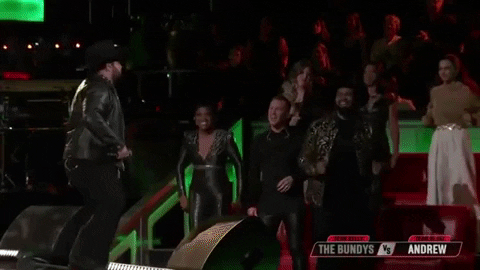 Sevener's stage presence was certainly impressive, but his voice was the standout star. He growled through the notes with such ferocity that all we could think for a while was "dang!" 
The chorus is where Sevener truly takes control, roaring through it like the modern Bonnie and Clyde tore through the connivence store mentioned in the song.
We could talk about this performance all day, but we'd rather let you experience it for yourself. Be sure to check it out in the video below!
It doesn't get any more "outlaw" than singing a Tritt song about two famous real-life outlaws!
Share on Facebook
Share on Facebook
Next