Tim McGraw's Daughters Make Rare Public Appearance At NFL Draft
Derek Breton / YouTube
Tim & Faith Finally Share More Of Their Girls
While other celebrities share endless photos and bits of information about their children, Tim McGraw and Faith Hill do not. The two have famously kept their three daughters out of the spotlight, which is why you can hardly find any photos of them from their younger years.
As Gracie, Maggie, and Audrey have grown, Tim and Faith have been willing to share more about them. Though until recently, we hardly saw anything of Audrey, since she is the only McGraw daughter that is still in high school.
So in December 2018, fans were stunned when Faith attended an event with her youngest daughter. She shared a photo of the two of them together, and people were amazed to see how grown up Audrey is.
Through the years, Audrey and her sisters have all displayed their own musical talents. Tim and Faith have had them each on stage before, and their performances always delighted the crowd.
One of the best performances was when Tim had their eldest daughter, Gracie, join him on stage during a 2015 show at Bridgestone Arena in Nashville. The two sang a duet they had recorded together titled "Here Tonight."
Faith Joins Tim At NFL Draft
Since Tim and Faith's girls have been stepping out a bit more recently, fans were wondering if they'd see them during the NFL Draft in Nashville, which took place from April 25-April 27. Tim was one of the scheduled performers at the draft, and got to headline a concert on its second night.
But when the "Thought About You" singer stepped out to attend the first night of the draft as a spectator, he wasn't accompanied by any of his three daughters, or Faith for that matter. Instead, his special guests were his two nephews, who got all dressed up for the occasion.
Faith and the girls may not have attended the first night of the draft, but they did make a surprise appearance during Tim's concert the following day.
As Tim was in the middle of performing his hit song "I Like It, I Love It," he beckoned to the side, which is where Faith was waiting in the wings. The crowd was thrilled when she made her way out on stage and started dancing around while her husband continued the song.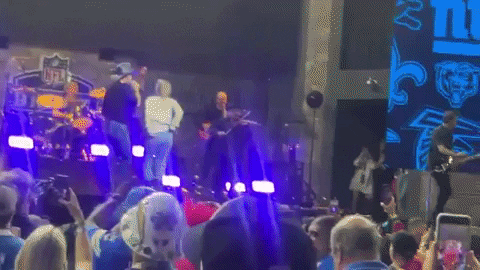 Faith eventually bounced her way off stage, and it seemed that the surprises were over for the night. But Tim wasn't done yet!
Fans Love The McGraw Girls
Toward the end of the song, he motioned to the side yet again, this time welcoming two of his three daughters on stage. The crowd was thrilled when he introduced Gracie and Audrey to them!
The pair was joined by Audrey's friend, and the trio of girls danced around on stage while Tim wrapped up the song. He even handed the mic over to Gracie to let her sing a little bit!
If you weren't one of the lucky people who got the chance to see Tim's daughters make their surprise appearance at the NFL Draft concert, be sure to check out the video below. It looks like they had such a fun time out there…and so did Faith!
Hopefully this means that we'll be seeing more of Gracie, Maggie, and Audrey in the future!
Share on Facebook
Share on Facebook
Next