Steven Tyler Stops Show To Lecture Fan Filming Video
Steven Tyler / Instagram
We're sure you've dealt with this problem before.
You're trying to watch a concert, but have trouble seeing over the thousands of phones and cameras that are thrust into the air. Despite the frustration you feel in these moments, we bet you're probably guilty of sometimes being the person who has their phone in front of their face during a concert.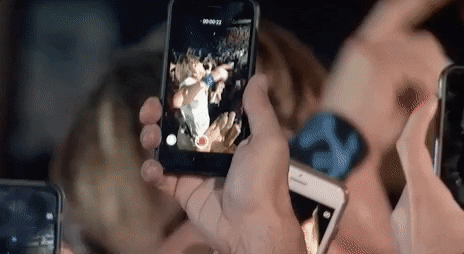 It's understandable why people break out their phones and cameras during live performances. They want to take photos or videos so they can look back on them in later years and recall fond memories.
While there's no problem with snapping a few photos or taking a video here and there during a concert, it's the people who watch entire shows through their phone screen that seem to annoy other concertgoers, and artists, the most.
Some artists are so sick of seeing a sea of phones at their concerts that they've actually called out fans for filming during their shows. Just a few such artists include Bob Dylan, Beyonce, and Bruno Mars.
It turns out that Aerosmith frontman and country singer Steven Tyler is also not a fan of people filming on their phones at his concerts.
During an Aerosmith show at the MassMutual Center in Massachusetts, Tyler lectured a fan he caught filming the concert on their phone. "You videoing that right now?" Tyler asked, "You gonna put that on your website?"
When the fan said "no," Tyler then asked "Why are you videoing me then?"
The fan said they didn't know why they were filming, which prompted a passionate response from Tyler. "You don't know?" he said. "Well then turn it off! F—— watch the show man."
Ironically enough, there is a video of this moment, and Tyler shared it on his social media accounts with a warning to any other would-be concert filmers.
"F—— WATCH THE SHOW PEOPLE…" he wrote.
You can watch Tyler call out the filming fan by tuning in to the clip below. He gave him a piece of his mind!
Share on Facebook
Share on Facebook
Next