Fans Surprised When Alan Jackson Brings Hank Williams Jr. On Stage For Iconic 'The Blues Man' Duet
(Left) Wade Payne, AP File/(Right) Grand Ole Opry YouTube Channel
Alan Jackson Honors Country Greats
Alan Jackson has always done an excellent job at honoring those who came before him. In 1999, he released an entire album dedicated to his musical heroes, and the result was spectacular.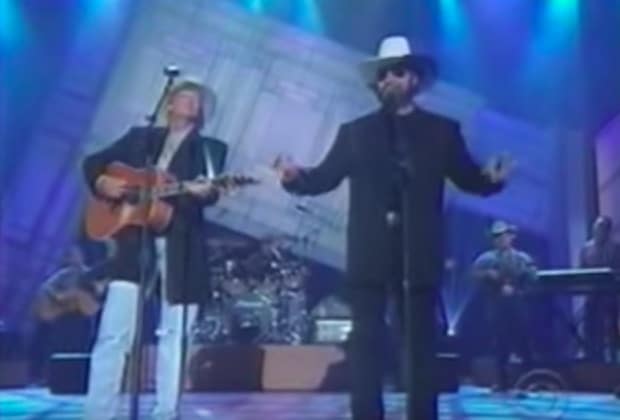 Called Under the Influence, the album featured covers of George Jones, Charley Pride, and Jimmy Buffett, just to name a few. Jackson also tackled Hank Williams Jr.'s "The Blues Man," and even released it as a single off of the album.
It peaked at the 37th spot on the charts, but what's even more remarkable is what Jackson did with the song at the 2000 ACM Awards.
"The Blues Man" Makes Surprise Appearance
Jackson charmed the crowd as he sang "The Blues Man," which shows off his range and gave him the chance to hit some really low notes.
As if that was impressive enough, he managed to get Williams to come out on stage and join him on the song!
The audience seemingly had no idea that Williams was going to sing as well, because when he made his entrance everyone went wild. Jackson took a step back once Williams made his way on stage, allowing his good friend to finish out the song on his own.
Ladies and gentlemen, it doesn't get much better than this. You don't want to miss out on hearing these two country greats sing together, so don't wait a second longer.
Did y'all know that years ago, Jackson wrote a song about Williams' iconic father, Hank Williams? Titled "Midnight in Montgomery," the song is haunted by the elder Williams' spirit in every note and word that Jackson sings.
Just in case you've never heard that song before, give it a listen below. And if you have heard it, then you know that it's worth listening to again.
Share on Facebook
Share on Facebook
Next