Dolly Parton's "9 To 5" Co-Star Peggy Pope Has Passed Away
jasonvit / YouTube
Peggy Pope was one of the most versatile actresses in the business. Over the course of her decades-long career, she starred on stage, on television, and in films.
Pope earned an Obie Award (Off-Broadway Theater Award) early on in her career for her performance in the 1968 play Muzeeka. She then appeared on Broadway alongside Jimmy Stewart in a 1970 revival production of the play Harvey.
She also earned notoriety for her recurring role on the ABC sitcom Soap, which aired from 1977-1981. Pope played Mrs. Lurleen David in the series, the mother of the character Carol. In addition to her role on Soap, Pope appeared on six episodes of ABC's Barney Miller and played various roles on the show.
But Pope is perhaps most well-known for appearing in the 1980 musical film 9 to 5. The movie, which starred Dolly Parton, Lily Tomlin, and Jane Fonda in the lead roles, is about three women who band together to get back at their no-good boss.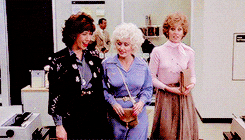 Pope played a secretary named Margaret in the movie, who the other characters called "the old lush" because of her drinking habit. Margaret was known for her catchphrase "atta girl," which is why Pope's 2011 autobiography is titled Atta Girl: Tales From a Life in the Trenches of Show Business.
In the book, Pope wrote about what it was like acting in 9 to 5, saying:
"It was a good movie and a good part. At the end, my character comes back from rehab, hair combed, looking spiffy and ready for the sequel. Underdogs climbing to the top is a fine formula, and it's always good to be in at the end of a film so people remember you were in it."
Those who watched the film certainly remembered Pope, and she remained a beloved figure in show business for the rest of her life. That's why so many people were devastated when news broke that the 91-year-old actress had passed away on May 27.
The Hollywood Reporter confirmed the news of Pope's passing, reporting that her family said she died in Fort Collins, Colorado of causes unrelated to COVID-19.
Pope is survived by her nephews Rob, Douglas, Ross and Ed, and their spouses, Maria, Martine, Charlotte and Nikki. Other survivors include her niece, Wendy, and her partner, Eric.
Our hearts go out to Pope's family during this sad time. May she rest in peace.
Share on Facebook
Share on Facebook
Next