Delivery Driver Sings Elvis Presley's "Kiss Me Quick" In Truck
Youtube / James
This driver delivered more than just packages on this particular morning! He sounds so similar to Elvis, you might just think you're watching The King in the present.
Modern Day Elvis
On his daily route on January 14, 2014, this delivery truck driver decided to give his fellow drivers a little show. While they were all hanging out between stops, he broke out his breathtaking talent and turns out, he sounds just like The King himself. The driver took on Elvis' "Kiss Me Quick" for one of the most incredible renditions we've heard to date.
Sitting in the front seat of the truck, he turned on the background music for the classic tune and began serenading his fellow coworkers. Still rocking his orange vest, the driver stunned with his impressive Elvis impersonation. His deep and twangy vocals are so eerily similar to Elvis', you won't believe what you're hearing!
It gets better though – the driver even busted out some sleek dance moves! He starts snapping his fingers to the beat, shimmying back and forth. Without a smile leaving his face, he continued with his swoon-worthy impromptu performance. On the last beat of the song, he threw up his fingers toward the viewers and gave one big smirk.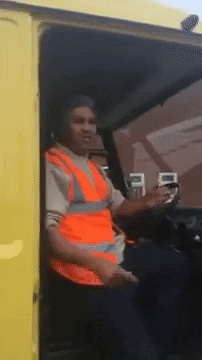 As far as we're concerned, this guy deserves a record deal! His talent and attitude prove he was destined for fame. Plus, we think The King would approve.
Living In The Love
Elvis' 1964 single, "Kiss Me Quick" made it across the charts following its release. Adding to Elvis' repertoire of love songs, this one tells the story of loving in the moment because "tomorrows can be so uncertain." Originally released off Elvis' Pot Luck album in 1962, it didn't make it as a hit until released in the United States in 1964. It has since gone down as a fan-favorite with multiple artists taking on their own renditions.
While there will never be another Elvis – this guy sure gives one commendable rendition!
Check out his cover below!
Share on Facebook
Share on Facebook
Next